Contact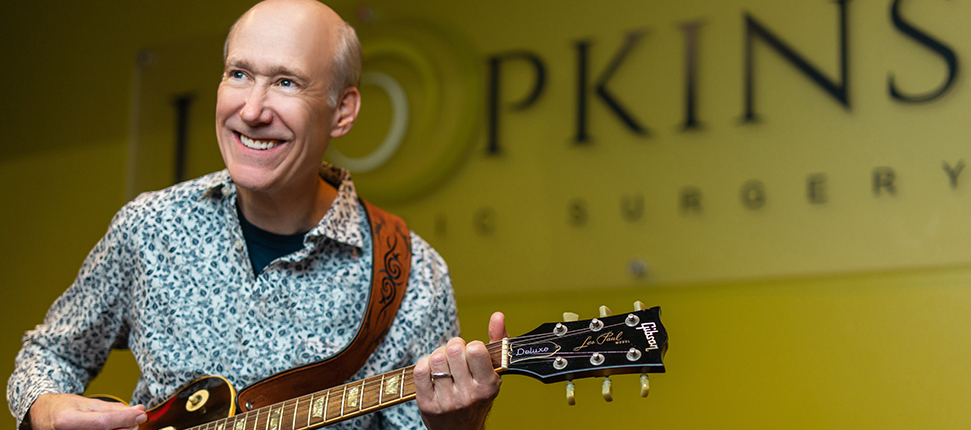 Dr. Hopkins is triple board-certified, with board certifications from the American Board of Plastic Surgery in both Plastic and Reconstructive Surgery and Hand Surgery, as well as the American Board of Oral and Maxillofacial Surgery. He is an active member of the American Medical Association, Texas Medical Association, Dallas County Medical Society, and the American Society of Plastic Surgeons. He enjoys spending his free time with his wife, Nora, snow skiing, and also playing his electric guitar with the band Rudy and the Docs.


A native of Fort Worth, TX, Dr. Hopkins began his medical career in 1987 when he received his D.D.S. from the University of Texas Health Science Center in San Antonio, TX. He continued his training, becoming specialized in Oral and Maxillofacial Surgery at the Washington Hospital Center in Washington, D.C. He then attended Medical School at the University of Alabama in Birmingham, graduating in 1993. After completing six years of specialized training in Plastic and Reconstructive Surgery at Providence Hospital in Southfield, Michigan, and Hand, Upper Extremity & Microsurgery at Baptist Hospital in Oklahoma City, OK. Dr. Hopkins began his private practice here in the Dallas area in 1999. He is currently on staff at Methodist Charlton Medical Center, Methodist Dallas Medical Center, and Methodist Mansfield Medical Center.
In keeping with Methodist Charlton Medical Center's mission to improve and save lives through compassionate quality healthcare, the department of surgical services recently named Jeffrey Hopkins, MD, Outstanding OR Physician of the Quarter for January through March 2017. This is a prestigious recognition from his peers, as Methodist Charlton is one of the most modern teaching and community hospitals that services the Dallas area. Dr. Hopkins, an oral-maxillofacial and plastic surgeon, is a longtime member of the Methodist Charlton medical staff.
The many reasons for Dr. Hopkins' recognition include his positive impact on the lives of patients, visitors, healthcare staff members, physicians, and colleagues. The award was announced during the general staff meeting on March 20 and presented at the surgery executive meeting on April 19 by Paul Hackett, MD, chairman of the surgery department and colorectal surgeon on the hospital medical staff.
Read about Dr. Hopkins' Methodist Charlton Medical Center Nomination Here.