Contact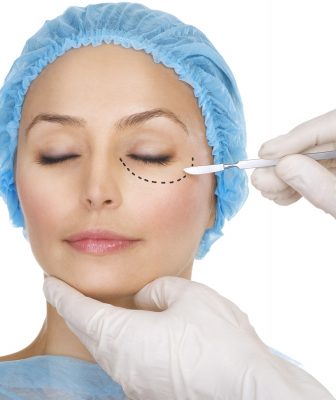 Your eyes are one of the first things that people notice about you. In fact, many say the eyes are the windows to the soul. But, what do you do if your eyes look tired due to droopy eyelids or deep under eye circles? How can you express just how happy and alert you really are if your eyes are always telling a different story? And, what do you do if your upper eyelids are drooping so much, they are interfering with your vision?
Every year, Dr. Hopkins of J. Hopkins Plastic Surgery speaks with several Dallas area residents who are experiencing these exact symptoms. Desiring a fresher appearance and an easier way to see out of their eyes, these potential plastic surgery candidates seek out Dr. Hopkins for blepharoplasty, also known as eyelid surgery. Blepharoplasty addresses both aesthetic and functional eyelid concerns. Having more than 18 years of experience performing this procedure and being one of the Dallas areas' most beloved plastic surgeons, Dr. Hopkins is the ideal practitioner for you if you have concerns with the appearance and function of your eyelids.
Too often, men and women complain that their eyes look "old." There is a notion that they have to accept that baggy eyes or sagging eyelids are a part of aging. However, this is far from accurate. Instead, with the help of J. Hopkins Plastic Surgery, Dallas patients can achieve a youthful look with blepharoplasty. This procedure eradicates common eyelid concerns.
The Blepharoplasty Procedure
The blepharoplasty procedure is a minimally invasive one. It involves a surgeon addressing the upper or lower eyelids, sometimes both, and getting rid of excess skin and fat. The procedure may leave a small scar, but it is barely visible when the eye is open and alert.
To recover from a blepharoplasty is a twofold process. The surgery itself and recovery time is usually around a week. However, to get your complete look, it is best to give your eyes ample healing time. After the surgery, don't panic if you do not see immediate results. Plastic surgery procedures take time to be effective.
The Cost of a Blepharoplasty
Occasionally, surgery is covered by health insurance. Commonly, it might be covered if it is medically necessary. In some cases, an eyelid surgery is necessary. It can prevent premature blindness due to overhanging eyelids. There is no guarantee of insurance coverage, but it can never hurt to call your insurance provider to find out.
Blepharoplasty Recovery
The recovery period for a blepharoplasty procedure depends entirely on you, the patient. On average, Dallas patients are back to at least 90% within a two-week period. The incisions from the procedure will be noticeable, which causes many patients some discomfort. Slight bruising is also quite common, though both the incisions and the bruising are, for the most part, quite small and easily dismissed.  Some patients feel completely back to normal after just three or four days.
On the most basic level, your particular constitution affects your healing process; people naturally heal at different speeds. Age is also a factor – just because a wound healed in a few days when you were younger does not mean the same type of injury will heal in the same time period at your current age. After the procedure, ice and rest the affected area and elevate your head; this speeds up the recovery process.
Your Initial Consultation with Dr. Hopkins
Dr. Hopkins understands the importance of establishing a trusting relationship with all of his Dallas patients from the get-go. During your first appointment, Dr. Hopkins will examine your eyes and listen to your concerns to determine if blepharoplasty is right for you. He will also screen you to ensure you are an adequate candidate for elective plastic surgery. This screening process includes:
Getting your full medical history, including any medical conditions you have, medications you currently take, and a history of any surgeries you may have had in the past
Ensuring you are in good overall health
Making sure you can pass a preoperative appointment with your general practitioner prior to your surgery date
Explaining the blepharoplasty process to you in detail, including the specific techniques Dr. Hopkins will employ in your unique case, and ensuring you can verify that you understand what the procedure entails
If you've ever been under general anesthesia before, confirming that you've never had an allergic reaction, as anesthesia is necessary for "putting you under" for this procedure
Making sure you are a non-smoker, as smoking can complicate both the blepharoplasty surgery and your recovery process, too
Confirming you have realistic expectations for your surgery and that you are in good psychological health
Will Insurance Pay for My Blepharoplasty Procedure?
Sometimes blepharoplasty is an elective plastic surgery procedure, such as when you have dark under eye circles or puffy or sagging eyelids. Other times, for example, when your eyelids droop so much they obstruct your vision, the surgery is medically necessary. In cases in which blepharoplasty is performed to improve your vision, it is possible that your insurance might pay for the procedure.* If insurance won't pay, J. Hopkins Plastic Surgery offers financing options to help make the surgery in reach to more Dallas area residents.
Dr. Hopkins' Approach to Blepharoplasty
Because each case of drooping or sagging eyelids, or deep under eye circles is unique, no two blepharoplasty patients undergo the same procedure. Instead, Dr. Hopkins customizes his surgical approach depending on your specific needs. Common complaints regarding the eyes include:
Lower eyelids that are heavy, bulging with fat, have drooping skin or dark undereye circles. Dallas eyelid surgery patients typically complain about these symptoms because they make them look fatigued, even though they are in fact well-rested and energized.
Sagging in both the lower and upper eyelids, which is an early sign of aging.
Severe sagging of the upper eyelids that can obscure vision to the point that it is difficult for the patient to see out of his or her eyes.
On the day of your eyelid surgery, you'll arrive at one of the following Dallas area hospitals or surgical centers where Dr. Hopkins has surgery privileges: North Texas Surgery Center, Advanced Surgical Center, Methodist Charlton Medical Center, Methodist Dallas Medical Center, and Methodist Mansfield Medical Center. You'll need to have fasted since midnight the night before your surgery, and have a friend, family member or advocate accompany you since you won't be able to drive yourself home due to the strong medication you'll receive for your procedure.
Prior to your surgery, you will be placed under general anesthesia so that you are completely comfortable and asleep throughout your procedure. If you're having surgery on your lower eyelids, Dr. Hopkins will make an incision inside your eyelid, leaving a scar that is either invisible or disguised by your eyelashes line.* If you're having surgery on your upper eyelid, Dr. Hopkins carefully makes an incision where your new eyelid crease will be located. By doing so, he is able to reduce the overabundance of skin, muscle, and fat to create your new eyelid crease. This scar will not be visible when your eyes are open and alert.
Next Steps After Blepharoplasty
Immediately after your blepharoplasty, Dr. Hopkins recommends that you wear a cold pack mask for two full days to control swelling and bruising. The length of time it will take for you to heal from blepharoplasty is going to depend on a number of factors, including your age and overall health condition. Typically, most of Dr. Hopkins' blepharoplasty patients are back to 90% within 2 weeks after surgery.*
Are the Results of Blepharoplasty Permanent?
Understandably, one of the most common questions that Dr. Hopkins receives about blepharoplasty is how long the results will last. After all, no one wants to go through the process of plastic surgery if the results are only going to be noticeable for a very short period of time. Since the aging process never stops you can expect that additional signs of aging will appear eventually around your eyes, and there is a slight chance that you will need another blepharoplasty. However, Dr. Hopkins finds that the majority of his blepharoplasty patients in Dallas won't need an additional blepharoplasty in the future, but instead, there is the possibility that they may require a brow lift.
Going Ahead with Your Procedure
If you're ready to have a fresh new look around your eyes, then why wait? Call Dr. Hopkins' office in the Dallas area today to schedule a blepharoplasty consultation at (972) 298-6641.
*Individual results may vary.