Contact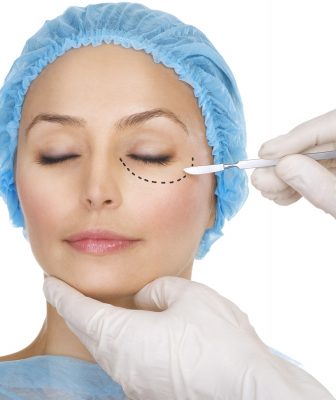 Why Do People Get Blepharoplasty?
The delicate skin surrounding your eyes is one of the first places you often see the signs of age. Eyelid surgery (also known as blepharoplasty) can revitalize the area around your eyes, allowing you to look youthful and refreshed. Specifically, blepharoplasty can:
Eliminate sagging skin, puffiness, or droopiness of the eyelids
Minimize the appearance of dark circles or puffy eye bags
Restore your peripheral vision
Help you look energized rather than tired or fatigued
Am I a Good Candidate for Blepharoplasty?
The best way to assess your eligibility for eyelid surgery is to schedule a consultation in Dallas with Dr. Hopkins. He will examine your eyes, collect your medical history, and verify that blepharoplasty is right for you. The ideal candidates:
Have droopy upper eyelids and/or puffy lower  eyelids
Have impaired peripheral vision
Are in good health overall
Are not smokers, or are willing to give up smoking
Meet Board-Certified Plastic Surgeon Dr. Hopkins
Dr. Jeffrey Hopkins is triple board-certified, holding certifications from the American Board of Plastic Surgery in both Plastic and Reconstructive Surgery and Hand Surgery and from the American Board of Oral and Maxillofacial Surgery. He is a member of the Texas Medical Association, Dallas County Medical Society, and the American Society of Plastic Surgeons. Over his 20-year career, Dr. Hopkins has performed more than 6,000 procedures, always prioritizing patient comfort and safety.
The Procedure Process Explained
The Consultation
Your treatment journey begins with a consultation. Dr. Hopkins will examine your eyelids, ask some questions about your medical history, and verify that you are a good candidate for surgery. This appointment is also an excellent opportunity to ask questions about the treatment plan, anesthesia, and recovery.
What Should I Do in Preparation?
Before your surgery, Dr. Hopkins may advise you to cease using certain medications or supplements that might impede healing. If you smoke, you will need to give it up for at least six weeks before your procedure.
What Is Surgery Like?
On the day of your procedure, we will welcome you back to a comfortable, private treatment room or at an outpatient surgical facility in Dallas. After administering anesthesia or sedation to ensure comfort, Dr. Hopkins will carefully remove excess fat or tissue, pulling your eyelids tighter to provide a youthful, refreshed appearance.
What Should I Expect in Terms of Recovery?
Following blepharoplasty, you can anticipate some swelling and bruising for up to three months. The worst of it clears up within a week, and patients usually feel ready to return to work within a week or so. You may experience some physical discomfort during your recovery, which you can mitigate with either prescription or over-the-counter pain medications.
Are There Any Risks Involved?
While there is risk involved with any surgical procedure, you can significantly minimize your risk by choosing a qualified surgeon and carefully following all aftercare and recovery guidelines.
Will I Need to Request Extensive Time Off from Work?
While recovery timelines can vary from patient to patient, most people are ready to return to work within seven to 10 days.
How Long Will My Results Last?
Assuming you take care of yourself and follow the aftercare instructions, you can expect your blepharoplasty results to be long-lasting. If you require any touch-ups in the future, Dr. Hopkins may recommend a brow lift.
Is It Really Worth It?
Only you can decide whether eyelid surgery is worth it. Be advised that virtually all patients who see Dr. Hopkins for blepharoplasty are extremely satisfied with their results.
You're in Good Hands with Dr. Hopkins
Blepharoplasty can rejuvenate your facial appearance. Schedule a consultation with Dr. Hopkins to learn more about eyelid surgery in Dallas at (972) 298-6641.