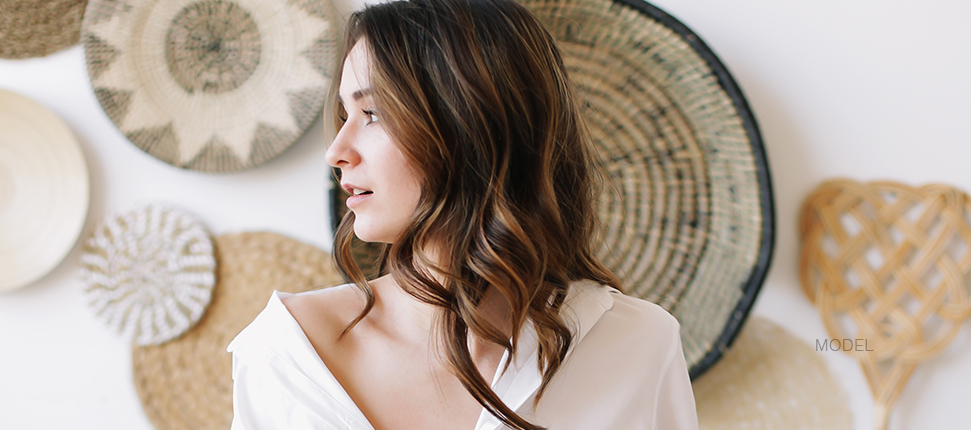 For women in Dallas who are unhappy with the size, shape, or asymmetry of their chest, breast augmentation may be the perfect solution. Dr. Hopkins is one of the area's most-respected plastic surgeons and can offer an artistic and detail-oriented hand for every procedure.
What Are the Benefits of Breast Augmentation?
The main benefit of breast augmentation is improved appearance. Patients will look younger and more feminine, thanks to the added plumpness of their bosom. However, the effects of breast augmentation are more than skin deep. Many patients also reported boosted self-confidence and self-esteem, which can help them achieve better overall mental health.
For most patients, it is possible to achieve:
Increased size of the breast.
Improved shape of the breast.
Symmetrical breasts.
Additionally, augmentation is an entirely personalized procedure, as patients get to choose their breast shape, size, and profile to get the exact chest they desire.
Breast Augmentation: Before and After
If you're considering breast augmentation, it's crucial that you read up on the procedure. Before your surgery, you should do independent research into estimated recovery times, risks, etc. Most crucially, consult with your physician about any questions that you may have. There are several things you can expect for the post-surgery period, and it's always best not to be surprised by any of them. Of course, one thing everyone can expect post-surgery is a body they can take pride in!
Who Is a Candidate for Breast Augmentation?
Many Dallas women who are unhappy with their breasts qualify as a candidate for breast augmentation. Because it is an invasive procedure, patients will need to be healthy enough for surgery. Additionally, patients should:
Be realistic about what the procedure can and cannot do.
Not smoke, as this can make the surgery and recovery more dangerous.
Have good overall mental health.
Patients should know that augmentation doesn't lift the breasts, so if they're seeking to boost sagging or drooping breasts, a breast lift might be the better choice.

Breast Augmentation Options
In addition to discussing your breast augmentation type choice and the cost of the procedure, you and Dr. Hopkins will discuss a variety of other items related to the surgery, including:
Your Desired Breast Size.
Plastic surgeons like Dr. Hopkins typically like to avoid agreeing upon cup size, as cup size can vary from bra manufacturer to bra manufacturer and has become a subjective measurement. Instead, Dr. Hopkins encourages you to bring in photos or magazine clippings of women with your desired breast size and shape, so he can more accurately visualize your desired goals.
Breast Implant Type.
If you've decided to forgo a fat transfer breast augmentation and instead get breast implants, you'll need to choose between silicone and saline options. Each offers its own set of benefits. Silicone breast implants tend to feel more natural to the touch, while saline options are often more desired by Dallas women concerned about implant rupture, as you'll immediately know if a saline breast implant ruptures because your affected breast(s) will deflate.
Silicone
Silicone implants are made entirely of silicone, an artificial material that is made to look and feel like human breasts. These implants have a silicone shell filled with silicone gel.
Pros:
They come in a variety of shapes and firmness levels.
Many patients think that they look and feel more realistic.
Cons:
They require periodic evaluation with an ultrasound or MRI study.
They often require more significant incisions.
Saline
These implants are inserted as empty shells, into which a sterilized saline water solution can then be added. This method means that saline implants can be placed with much smaller incisions as compared with silicone implants.
Pros:
Smaller incisions are possible.
They are less risky than silicone implants.
Cons:
Some patients may not like the look or feel as much as silicone.
There is a greater risk of "rippling" visible under the skin.
If the implant develops a leak, it deflates.
Breast Implant Shape
If you've chosen a breast augmentation via breast implants, you'll need to decide whether or not you want teardrop shaped implants, which tend to appear more natural, or rounded implants, which often allows Dr. Hopkins to create more cleavage, if desired.* This is a very personal decision, and the choice is entirely up to you.
Round
Round implants are the most popular option, as many patients believe that they move and feel just like real breasts.
Pros:
The round shape allows these implants to move freely within the breast shell.
They tend to make breasts appear larger on top.
There is no concern about implant rotation.
Cons:
Round implants are not always as durable as teardrop ones.
Teardrop
Teardrop-shaped breast implants are actually the more anatomical solution, as they roughly mimic the shape and slope of your natural breasts.
Pros:
They tend to make breasts appear fuller on the lower pole.
Teardrop implants are more durable and have a lower risk of rupture.
Cons:
There is some risk of rotation, which can impact the appearance of your breasts.
Teardrop implants are often the more expensive of the two options.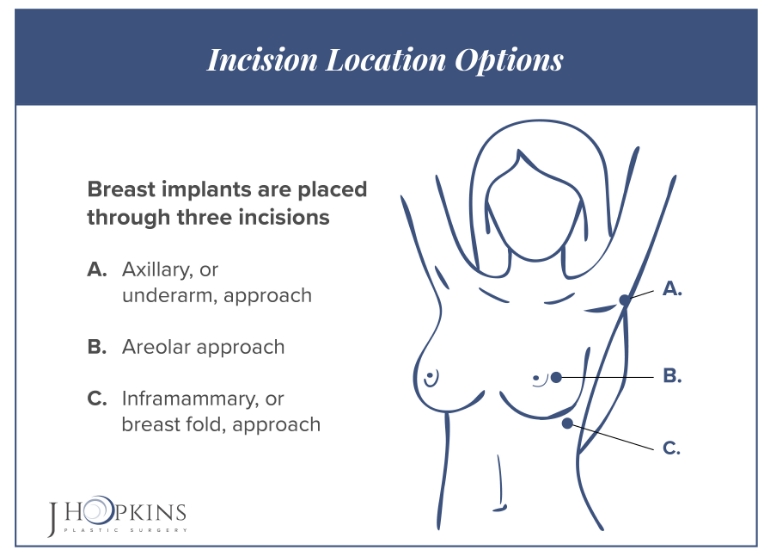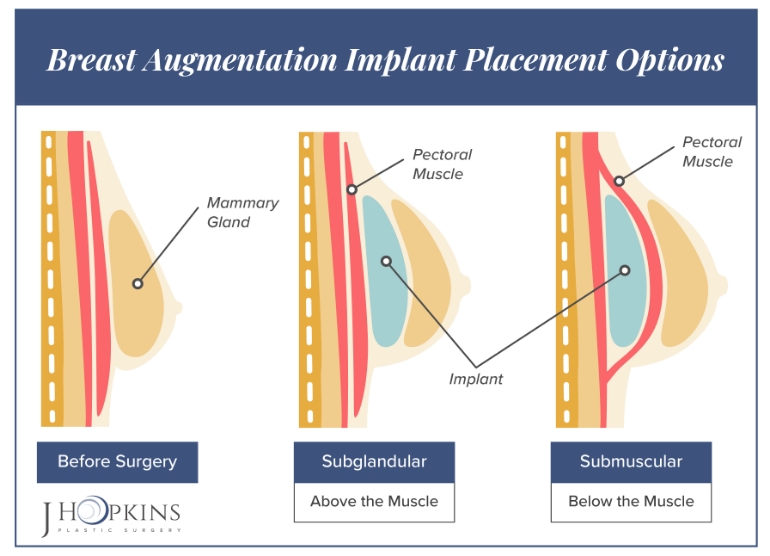 Breast Implant Profile
If you're going with breast implants for your breast augmentation, you'll need to decide on a breast implant profile, which refers to how far out the breast implant protrudes. The higher the breast implant profile, the more your newly augmented breasts will stick out.
Low Profile
Low-profile breast implants offer the least amount of "projection" from the chest with the most natural-looking results.
Pros:
Low-profile implants are ideal for those with a wide chest wall that are not looking to add significant volume to their breast size.
These implants will provide better overall balance and look more flattering for patients with a wider chest.
Cons:
They may not satisfy patients who are hoping for a more dramatic before-and-after.
Moderate Profile
For patients who seek subtle yet substantial results, the moderate-profile breast implant option may provide the best middle-ground.
Pros:
These implants offer more projection than the low-profile option while still retaining a lifelike and natural look.
Cons:
These implants may be uncomfortable for patients with a natural base, as the implants will be too narrow, and the base may not fill out properly.
High Profile
High-profile breast implants may be the best option for patients who desire a truly stunning before-and-after contrast.
Pros:
These are the implants that offer the greatest projection from the chest and thus the most eye-catching transformation.
Ideal for those with significant tissue deflation caused by aging, breastfeeding, or weight loss.
Cons:
These implants may cause overall body disproportion if your frame is too small.
High-profile implants are not suitable for those looking for a natural-hanging breast look.
Incision Type
Dallas women who are having a breast augmentation via breast implants will need to decide which incision type to choose from: periareolar (an incision made around the areola), inframammary (an incision made underneath the breast crease, where the breast meets the rib cage), transaxillary (an incision made underneath the arm) and transumbilical (an incision made in the belly button).
Transaxillary
Transaxillary incisions are placed in the armpit. Working through one of these incisions, the plastic surgeon can insert a saline or silicone implant, enhancing the overall volume of the breasts.
Pros:
The incision is almost completely hidden from view, except when you wear sleeveless tops.
There is no scarring along the breasts themselves.
Cons:
Transaxillary incisions may not be large enough to fit large silicone implants.
Working through a transaxillary incision gives the surgeon a bit less control over the positioning of the implant.
Inframammary
Inframammary incisions are made on the underside of the breast. They are not very prominent or visible, yet they create more room for the surgeon to work than a transaxillary incision does.
Pros:
These incisions work with either saline or silicone implants.
Their positioning is very easy to conceal.
These incisions are easy to re-open for further surgeries.
Cons:
This incision "gives away" that you have had implants placed.
Areolar
Areolar incisions are made along the periphery of the areolas.
Pros:
There is no real advantage to this incision type.
Cons:
There are increased risks for infection or loss of nipple sensation.
This is not a good option for patients who do not wish to have any scarring on their breasts.
This incision type can interfere with milk ducts.
Trans-umbilical
Trans-umbilical incisions are made on the upper, inside edge of the belly button. Rolled-up saline implants are then inserted, positioned, and inflated.
Pros:
The scar is hidden inside the navel.
Cons:
Positioning the implants is more challenging, and surgeons have less control.
Silicone implants are not an option with this incision type.
Which incision type will be right for you will vary greatly depending on the type of breast implants you have chosen, and other important factors, such as whether or not you may want to breastfeed children in the future, in which case the periareolar incision isn't recommended because it may cut through milk ducts and make breastfeeding difficult or impossible.*
What Does Breast Augmentation Cost?
Every patient is different, so it's hard to estimate the exact cost of this procedure. It depends on a number of factors, including the type and shape of implant chosen, as well as the surgical approach. Generally, patients can expect to pay $8,000 for their procedure, but this could be higher or lower. To know their exact costs, patients are urged to schedule an initial consultation at our Dallas office. To assuage payment fears, we also accept CareCredit and Alphaeon Credit as financing options.
What Is the Recovery After Breast Augmentation?
Recovery is different for every patient, as everyone heals at different rates. That being said, most patients can expect to be off work or school for about one week. During this week, the patient may feel discomfort, which they can alleviate with pain medication. It will be six weeks until they can return to most physical activities.
It's also important to note that the final results of the procedure take four to six weeks to reveal themselves, as the implants need time to settle. During this time, they may look slightly asymmetrical, but they will even out as healing progresses.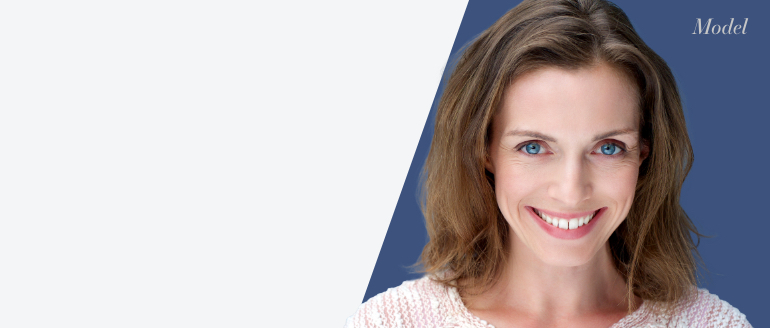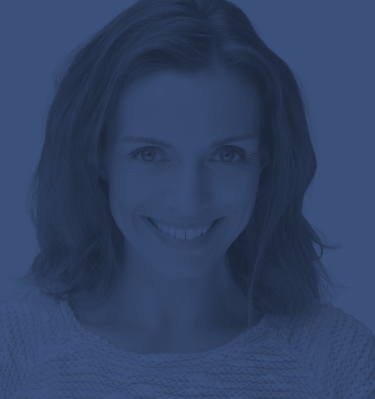 Increase the size of your breasts and tackle other problem areas, too.
GET A MOMMY MAKEOVER!
Restore your silhouette with this all-in-one procedure.
Choose Breast Augmentation in Dallas Today
Don't let discomfort over your body destroy your self-confidence anymore. Become the sexy and busty woman you want to be when you choose breast augmentation from Dr. Hopkins. To learn more about the procedure and see if you're a candidate, schedule your initial consultation today by calling our Dallas office at (972) 298-6641.
*Individual results may vary.