Contact
Why Some Men Decide to Get Gynecomastia Surgery
Gynecomastia is a condition that affects men, enlarging their breast tissue and occasionally causing the breasts to sag or the areolas to stretch out. This condition may result from many factors, including obesity, hormone changes, or certain drugs. While gynecomastia is not dangerous in and of itself, many men find that it erodes their self-confidence or makes it difficult for them to find clothing that fits comfortably.
Gynecomastia surgery reduces the size of the breasts, removing excess fat and tissue. It can be a great option for men who wish to improve their self-image, feel more confident in their T-shirts, or gain a more toned physique.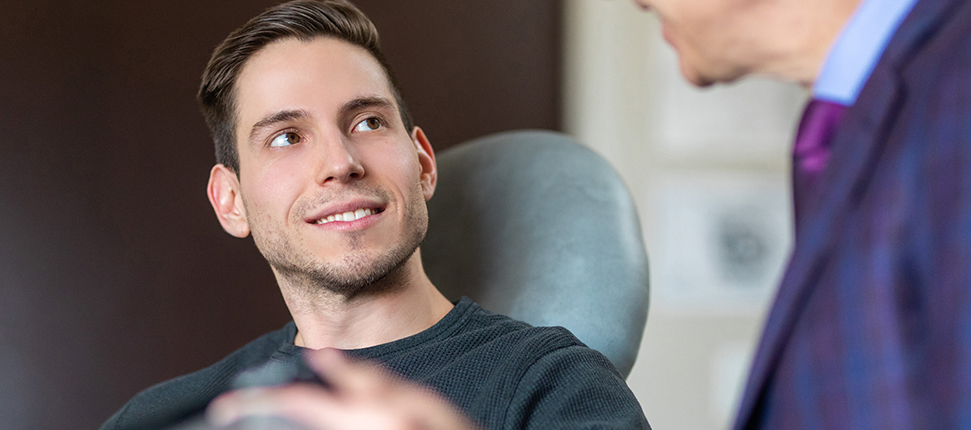 How Do I Know If I Have Gynecomastia?
It can be hard for men to distinguish between regular fat deposits in the chest region and gynecomastia, particularly since the two conditions are visually similar.
Typically, men who have gynecomastia are able to feel a hard lump under their nipple or areola region. This lump will feel much firmer than regular fat deposits. If you can feel this lump, and especially if the lump is painful or sensitive to the touch, that is usually a sign that you have gynecomastia. Additionally, gynecomastia will not change with diet and exercise, whereas regular fat deposits will potentially change.
Signs of Gynecomastia:
Localized fat in the chest area
Increased or excessive glandular tissue development
Excess breast skin
One or both breasts are enlarged
Grades of Gynecomastia
Gynecomastia can be classified using a four-tiered gradation system. These different grades of gynecomastia reflect the overall severity of the condition.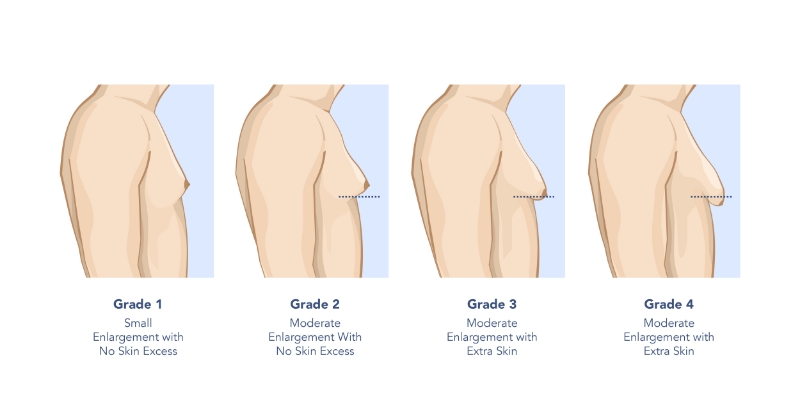 Your Initial Consultation
Your journey will begin with a one-on-one consultation with Dr. Hopkins in Dallas. During your consultation, Dr. Hopkins will perform a physical evaluation, ask some questions about your medical history, and answer any questions you might have about gynecomastia.
This information allows Dr. Hopkins to customize a treatment plan that meets your needs and goals while maximizing patient safety. Your consultation also provides you with the opportunity to ask any questions you may have about anesthesia, recovery time, aftercare, and other important details.
What to Expect from Gynecomastia Surgery
On the day of your surgery, you will arrive at a nearby outpatient surgical facility in Dallas. At this point, we will provide anesthesia to ensure your comfort and safety.
The surgery itself can vary depending on the severity of your gynecomastia. Sometimes, liposuction can be performed through small incisions in and around the breasts, allowing Dr. Hopkins to remove unwanted fat and tissue with minimal invasiveness. For more severe cases, Dr. Hopkins may recommend larger incisions to remove higher quantities of tissue and fat or to reposition the areola. Still, other patients may benefit most from a combination of liposuction and excision methods. During your consultation, Dr. Hopkins will discuss these options with you, helping you determine the treatment plan best suited to meet your aesthetic goals.
Recovery After Your Procedure
Most gynecomastia surgery patients can go home the same day to rest and heal. Before you go, we will provide details about recovery and aftercare. You are welcome to call our office any time with questions.
While recovery timelines vary by patient, most men feel ready to resume their normal, daily activities after a week or so. The exception to this is strenuous exercise, and it may be six weeks or more before Dr. Hopkins clears you to return to the gym.
During recovery, you may need to wear a compression garment over your chest, which can reduce swelling. While you can expect some physical discomfort, this is easily managed with over-the-counter or prescription medications.
You're in Good Hands with Dr. Hopkins
While gynecomastia can negatively impact your self-confidence, surgical intervention can provide an answer. At J. Hopkins Plastic Surgery in Dallas, we have much experience helping men with this condition, always prioritizing safety, comfort, and clinical results. Schedule a consultation with Dr. Hopkins at (972) 298-6641.