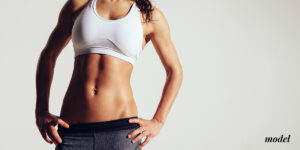 If you have recently been pregnant or experienced a significant amount of weight loss, you may find that your curves are not quite as flattering as they once were. Plastic surgery can be an excellent option for regaining your figure, specifically through procedures such as the tummy tuck and breast augmentation. Some patients may prefer to have just one of these procedures, but for others, it makes sense to have both surgeries performed at the same time.
Learn more about the benefits of combining your tummy tuck with a breast augmentation procedure.
What is a Tummy Tuck?
A tummy tuck is a type of plastic surgery that targets the abdominal area. During this procedure, your surgeon will eliminate extra fat and pull tight any loose, sagging skin around your belly. A tummy tuck may also involve fortifying the muscular wall of your stomach, which can often become damaged during pregnancy.
Ultimately, a tummy tuck can be a good option for those who have a healthy body weight but lack a toned, flat abdominal area.