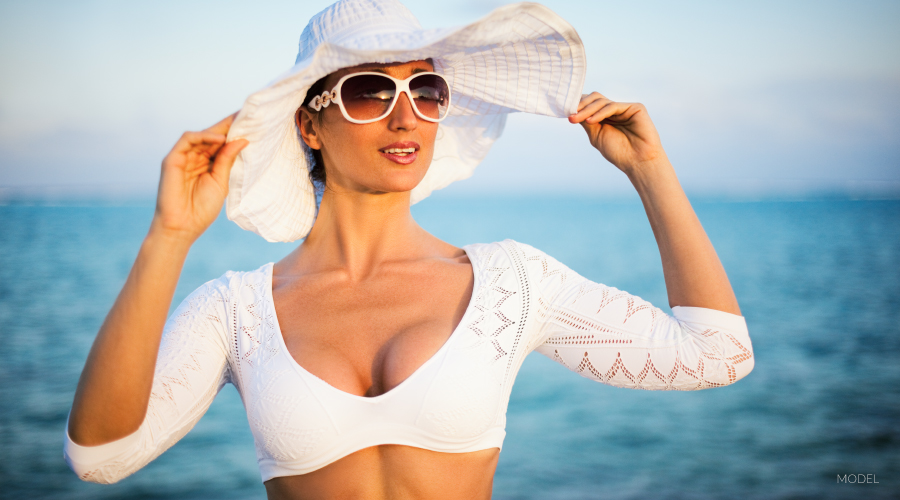 Everyone should feel comfortable and fabulous in their own bodies, and that's especially true for women. While anyone can have body image issues, all too often it's women who feel self-conscious about their body, their facial appearance, their weight, and more. For some Dallas women, the natural size of their breasts has them wishing for a little more on top to give them that ever-so-desired hourglass silhouette, or just provide them with a bust they feel "matches" and "fits" the rest of their body.
Whether you've always felt your breasts are too small for your frame, you've noticed they've deflated due to pregnancy or aging, they're noticeably asymmetrical, or you just want more cleavage, a breast augmentation surgery by Dallas plastic surgeon Dr. Hopkins of J. Hopkins Plastic Surgery may be just what the doctor ordered! With 20 years of plastic surgery experience, you can trust Dr. Hopkins has the experience, aesthetic eye, and technical know-how to help deliver results you'll love!
A Breast Augmentation Can Provide a Variety of Different Aesthetic Looks
No 2 breast surgeries are alike, and depending on your surgical goals, the outcome from your Dallas breast augmentation can be vastly different from the patient before or after you on surgery day.
In fact, local women getting breast implants can attain a wide array of aesthetic outcomes from a breast augmentation, including:
Taking very small breasts to a size that looks more natural on your frame
Enhancing your breast size so that it accentuates your curves and gives you an hourglass figure
Evening out breasts that are noticeably asymmetrical, so they are of similar size and shape
Moving the breasts closer together
Providing you cleavage when you've never had it before
Helping you finally fill out bikini tops that have never fit properly on you in the past
Dallas Women Experience a Variety of Emotional Benefits from Getting Breast Implants
You may want to enhance your breasts for cosmetic reasons, and not even realize that your current shape and size is affecting your self-esteem. In fact, many women who choose to get a breast augmentation report they're surprised that in addition to achieving the aesthetics they've always wanted, they get an emotional boost, too, including:
Enhancing self-confidence from feeling comfortable in your own skin
Feeling like you finally have the body that you were born to have
Regaining a look you formerly had, but lost, due to pregnancy, breastfeeding, or the aging process
Having a body that you feel is attractive and allows you to be more comfortable attracting a mate
Improving your sex life due to finally having breasts you feel sexy and confident about
Get a Look You'll Love
There's no better plastic surgeon in Dallas to perform your breast procedure than Dr. Hopkins of J. Hopkins Plastic Surgery. His experience simply speaks for itself.
To begin working with Dr. Hopkins, you need to schedule an initial consultation. You can do so by calling his plastic surgery practice today at (972) 298-6641.