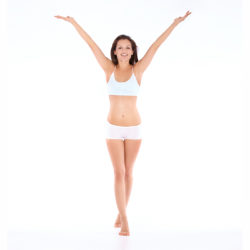 The term "mommy makeover" is increasingly popular among mothers in the Dallas area. Essentially, a mommy makeover is a combination of surgeries designed to contour a woman's body and improve the physical changes that tend to hang around long after pregnancy and childbirth. There are several different areas of the body that a mommy makeover can address. In fact, a mommy makeover can include a combination of any or all of the following procedures:
This procedure is the most popular choice for women in the Dallas area. While we know you love your baby, pregnancy and breastfeeding can do a number on a woman's breasts. By performing a breast augmentation during a mommy makeover, Dr. Hopkins can restore his patients' breasts back to their pre-baby shape and size. And if you want to go bigger than you were before you had babies, he can do that, too!
Many of Dr. Hopkins' patients also choose to have a breast lift during their mommy makeover to accompany their breast augmentation. A breast lift is most beneficial for women who chose to breastfeed their children and are left with breasts that sag more than they'd like. If you have deflated, sagging breasts, combining a breast lift with your breast augmentation will give you perkier breasts.
While most women deal with smaller, deflated breasts after pregnancy, there are women who struggle with overly large breasts. If you are a woman who experiences daily pain because of your large breasts, Dr. Hopkins may perform a breast reduction during your mommy makeover. This procedure includes a breast lift as well.
Liposuction is very common during a mommy makeover at J. Hopkins Plastic Surgery. While it should not be confused with a weight-loss procedure, Dr. Hopkins is able to remove up to 4 pounds of fat per session. Liposuction provides Dallas women with a smoother contour and can get rid of those stubborn fatty deposits that just won't respond to diet or exercise.
Clearly, most women who seek out a mommy makeover choose to include a tummy tuck in their procedure. Whether it is because they have unwanted C-section scars or unwanted leftover skin from their pregnancy, a tummy tuck will provide women with a more contoured, defined abdomen. Dr. Hopkins can also restore separated abdominal muscles if necessary, during a tummy tuck procedure.
Call J. Hopkins Plastic Surgery To Learn More About A Mommy Makeover
Whether you've been dreaming of having your pre-pregnancy body back for some time, or you just stumbled across the term "mommy makeover" for the first time today, you probably need more help knowing which combination of procedures to choose for your mommy makeover.
That's where Dr. Hopkins comes in. He will be able to educate you on the surgery and give you his recommendations on which procedures would best suit your specific needs. Call today to schedule your initial construction in his Dallas office. You can reach him at (972) 298-6641.