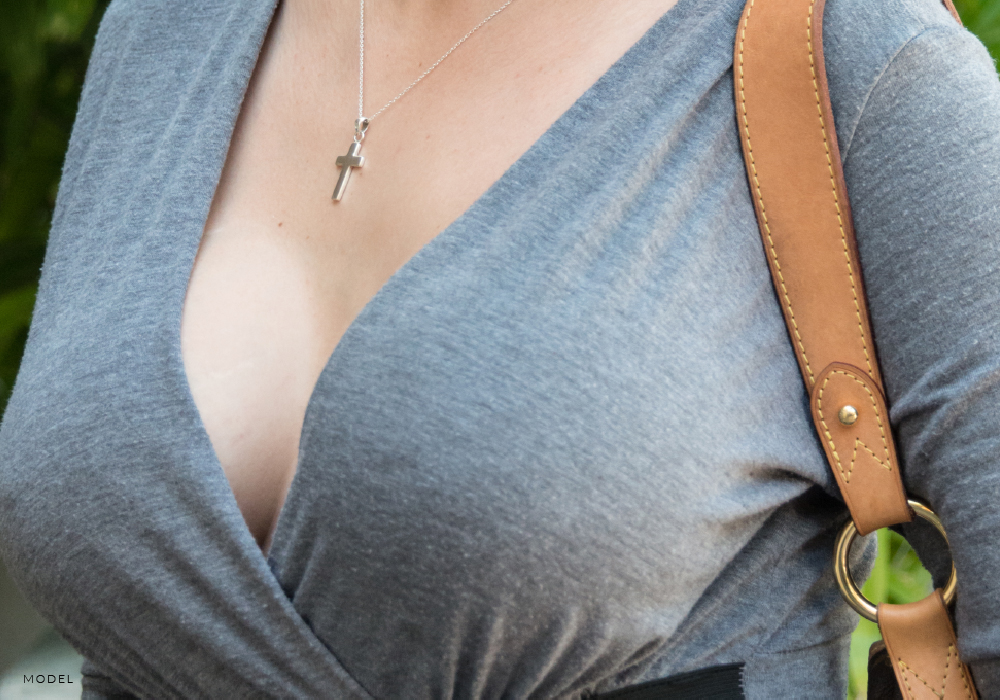 If you're a Dallas woman interested in having a breast augmentation to enhance the size of your breasts, you may be wondering how you and your doctor work together to choose the best breast implant for your specific anatomy and desired results. Because Dr. Hopkins wants his patients to be as informed as possible as they make this important decision, he spends a lot of time educating them about their choices. And among the factors he covers is the relationship between breast implant shape and breast implant size.
Breast Implant Shape
Silicone breast implants come in two shapes: round and teardrop. Teardrop implants mimic a teardrop and are not as full on the top as the bottom portion of the implant. Why a Dallas woman would choose one shape of implant over the other, all depends on her desired outcomes for her breast augmentation surgery.
Round implants provide patients with a fuller breast appearance and cleavage. Since a round implant is circular in shape, it evenly distributes breast fullness throughout the breast. Also, if after surgery the implant rotates, there won't be any distortion in the patient's breast since the implant is round in shape.
A teardrop implant is designed for Dallas women who want a more natural looking breast augmentation. Just like natural breasts, it's more sloped at the top and fuller at the bottom. Compared to round implants, teardrop implants don't provide as much cleavage.
Breast Implant Size
Some Dallas women come to a breast augmentation consultation with Dr. Hopkins already convinced of what bra cup size they'd like to achieve. Dr. Hopkins cautions against this type of thinking. Instead, he prefers his patients to come in with photos and magazine clippings of women who have their desired breast size. Better yet, he prefers you to bring in the size of bra you desire to be and "try on" different sizes of implants which allows him to more easily choose the number of cc's a patient's breast implants will need to be to give her the results she wants.
You see, breast implants aren't issued with measured cup size. Instead, they're given a cc level, all depending on the amount of silicone or saline that is filled inside of them. And because all women are different and have unique natural anatomy, to begin with, there's no one-size-fits-all cc level to give women a C cup breast size, for example. Everything about picking out your breast implant shape and size is unique to you.
The Relationship Between Shape and Size
Ultimately, the relationship between breast implant shape and breast implant size is a customized formula for each individual breast augmentation patient. A Dallas woman desiring more cleavage and larger breasts will likely choose round implants and a higher cc level. Alternatively, a patient who's always felt her natural breasts were too small for her body and simply wants to feel that her breasts "fit" her frame will likely choose teardrop shaped implants and a smaller cc size. The relationship all depends on the desired outcomes.
Consult with Dr. Hopkins to Learn More
If you have further questions about picking out the right breast implant for your breast augmentation surgery, the best thing to do is to schedule a consultation with Dr. Hopkins at J. Hopkins Plastic Surgery.
During this appointment, you'll be able to meet with him, learn more about the procedure, and ask any questions you have about choosing implants for your procedure. To schedule the appointment, call his office today at (972) 298-6641.