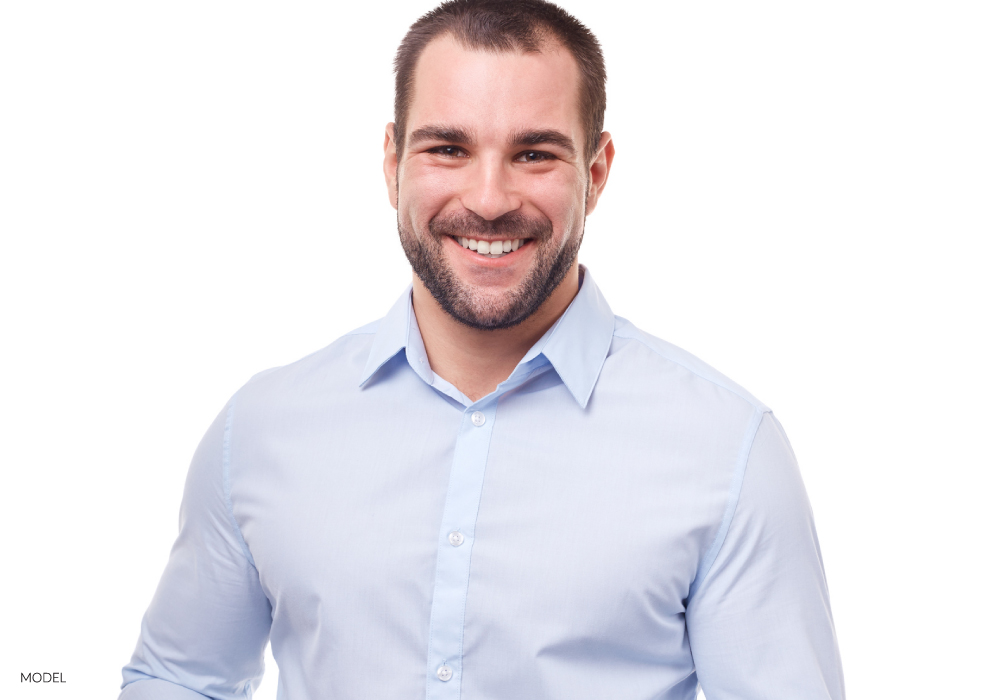 Did you know that almost 50% of men suffer from some degree of gynecomastia during their lifetime? This frustrating condition can show itself as early as puberty for some, but most Dallas men begin to notice the telltale signs as young adults. Dr. Hopkins of J. Hopkins Plastic Surgery understands how limiting gynecomastia can be, which is why he offers male breast reduction surgery at his clinic.
When he meets with potential patients for their initial consultation, Dr. Hopkins is often asked about the scarring associated with male breast reduction surgery. And since men have ample opportunity to be in public without a shirt on, there's a good reason for wanting to know if their surgical scars will be seen by everyone at the beach or pool. Because Dr. Hopkins wants you to be well informed and well prepared for your procedure, we will discuss the surgical procedure to correct gynecomastia.
Why Correct Gynecomastia with Male Breast Reduction Surgery?
Men in Dallas who suffer from gynecomastia often choose male breast reduction surgery because they:
Feel uncomfortable when wearing tight-fitting clothing
Feel self-conscious when performing regular activities without a shirt on
Feel uncomfortable in intimate situations
Desire to feel satisfied with their body image
The Gynecomastia Surgery Process
Before Dr. Hopkins begins surgery to correct your gynecomastia, you will first be given medication that will help you rest. This may be sedation or general anesthesia and will ensure you are completely asleep during your surgery. Which form of anesthesia used will be decided during your pre-op appointment and will be based on your specific needs and medical history.
After you are completely asleep, Dr. Hopkins will begin your gynecomastia surgery by performing liposuction, if your primary issue is fatty deposits in the breast tissue. To do this, Dr. Hopkins will make tiny incisions around your breasts in which he will insert a small hollow tube called a cannula. He will then move the cannula gently back and forth to remove the unwanted fat cells from your chest area.
Dallas men who have a lot of excess skin or tissue contributing to their gynecomastia will have excision performed. Dr. Hopkins will remove breast tissue surgically and reposition the nipples to a more natural position. In many cases, Dr. Hopkins uses a combination of liposuction and excision to provide the best results possible.
Scarring After Gynecomastia Surgery
While any surgical treatment used to correct enlarged male breasts, with advancements in today's surgical techniques, gynecomastia surgery allows men to enjoy a quick surgery and recovery, with almost invisible scars. To conceal surgical scars, Dr. Hopkins will place incisions in the natural contours of the breasts, such as around the nipple. Where he chooses to place the incision depends on the involvement of the procedure, but as a trained, qualified plastic surgeon, Dr. Hopkins will take great care to conceal incisions as much as possible, so little to no scarring is visible.
Trust Dr. Hopkins With Your Gynecomastia Surgery Results
As a triple board-certified plastic surgeon, Dr. Hopkins has the expertise and experience to provide natural-looking results for men in Dallas suffering from gynecomastia. His artistic skill gives him the unique ability to hide incisions and resulting scars from the view of onlookers.
To get started, or learn more about male breast reduction surgery, call J. Hopkins Plastic Surgery today at (972) 298-6641.