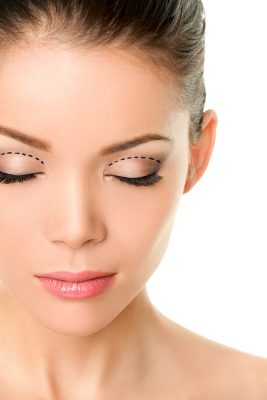 Blepharoplasty otherwise known as eyelid surgery has come a long way. In fact, many patient's are opting for laser eyelid surgery as opposed to traditional scalpel eyelid surgery. However, there are a lot of pros and cons related to each surgical procedure that should be taken into account before going under the knife.
Traditional Eyelid Surgery Vs. Laser Eyelid Surgery
Traditional eyelid surgery is typically done using a scalpel and other surgical tools. Surgeons use the scalpel to cut along or around the eyelid to either remove excess fat or skin. By removing and reshaping the skin along the eye, surgeons using the traditional eyelid surgical method can create healthy and natural-looking eyes.
On the other hand, laser eye surgery is typically done with a CO2 laser. The laser can serve as a cutting tool, a cautery, as well as a blunt dissection device. The biggest difference between traditional eye surgery and laser eye surgery is: its recovery time. Laser eye surgery has less swelling and less bruising than traditional eye surgery methods.
What To Expect
Overall, while laser eyelid surgery will take less time to heal, the results are ultimately the same as traditional eyelid surgery.It's important to know that a tool or procedure is only as good as its user. To maximize results, be sure to talk to a board certified surgeon who has experience in blepharoplasty. Otherwise, you could possibly end up with irreversible nerve and eye damage.
For an experienced surgeon call our office today or contact us online for more information.