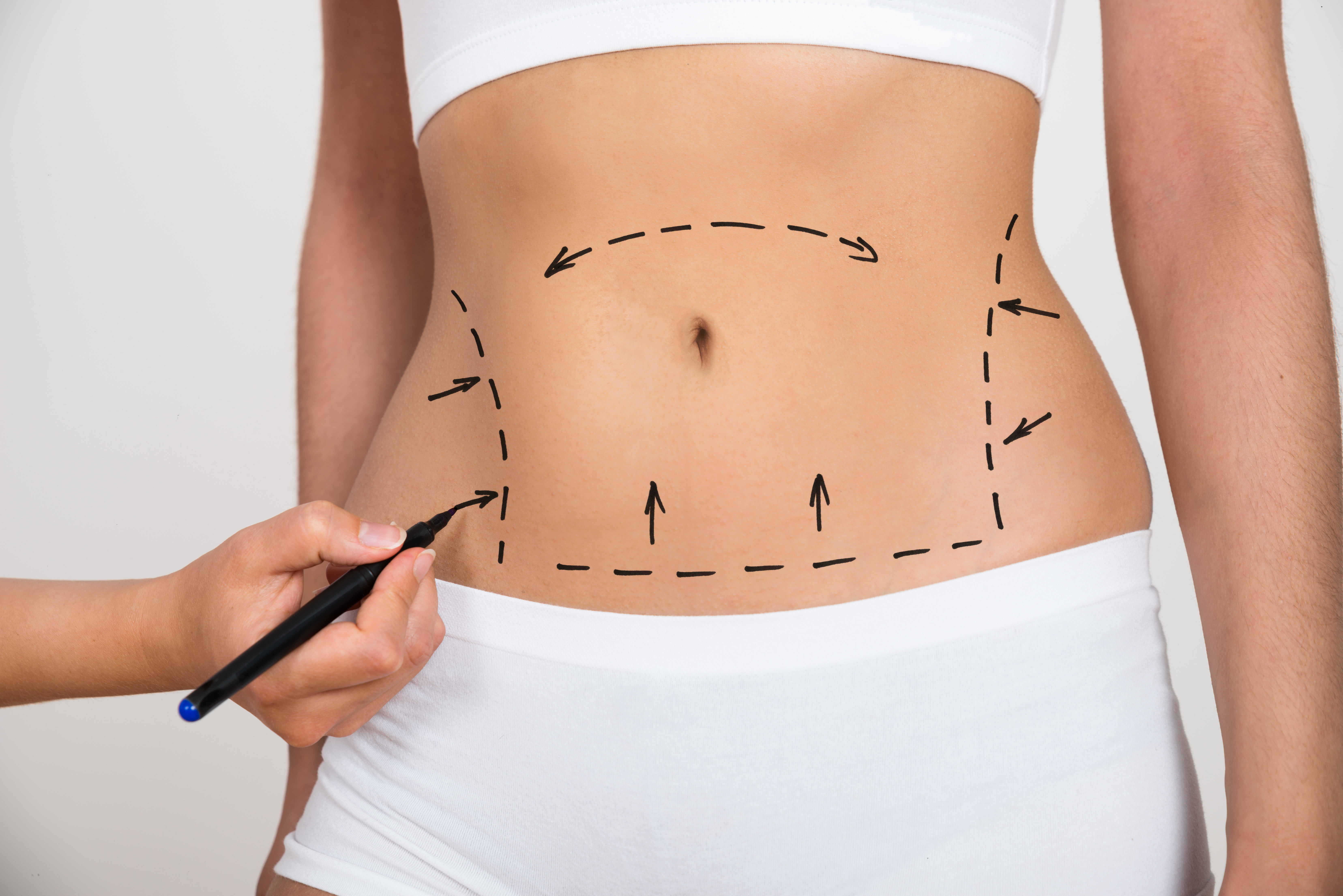 Every year, Dr. Hopkins sees patients from the Dallas area who are interested in slimming down their midsection. However, many of them come into his office confused about what type of procedure they should have in order to get the "look" they want – liposuction or abdominoplasty. In this blog, we will discuss the differences between the two so you will better understand which will be best to achieve the final results you're looking for.
Liposuction
Liposuction is a relatively minor elective plastic surgery procedure performed by Dr. Hopkins that involves removing unwanted fat from a chronic trouble spot on the body. To do this, Dr. Hopkins will first make a small incision or series of incisions in the area to be treated. He will then use a thin, flexible tube called a cannula to remove the unwanted fat. Liposuction is most often used on the thighs and abdomens of Dr. Hopkins' patients, but it can also be performed on many different areas of the body such as the neck, arms, back, and buttocks.
Because liposuction can only remove up to 4 pounds of fat per session, it should not be considered a weight-loss procedure. Liposuction should not be a substitute for diet or exercise or treatment for obesity. Dr. Hopkins recommends his patients be at or near their ideal weight before considering this treatment.
Abdominoplasty
Abdominoplasty, more commonly known as a tummy tuck, is one of the most highly sought-after plastic surgery procedures in Dallas. Many men and women are often left with excess skin and fat on their abdomen, as well as a weakened core, after long years of weight fluctuations, pregnancy, and the unfortunate effects of aging. When these patients choose abdominoplasty with Dr. Hopkins, he is able to provide them with a flatter, firmer, and more youthful tummy.
During the procedure, Dr. Hopkins will first make an incision from hip to hip below the bikini line. This long, but necessary incision is well-hidden and gives him the access he needs to remove excess skin and fat, stitch up separated abdominal muscles, and reposition the belly button to a more natural position.
Abdominoplasty is not a weight loss procedure and should only be performed on patients who are at or near their goal weight.
Combination Plastic Surgery
While liposuction and abdominoplasty are two very different procedures, the truth is that Dr. Hopkins frequently performs both cosmetic surgeries at one time. Many Dallas patients who choose abdominoplasty to remove extra abdominal fat and correct separated abdominal muscles, also benefit greatly from the added contouring liposuction provides.
When you meet with Dr. Hopkins at J. Hopkins Plastic Surgery in Dallas, he will discuss your surgical options after he has fully reviewed your medical history, performed an examination, and talked with you about your aesthetic goals.
Choose Dr. Hopkins to Get the Contoured Abdomen You Deserve!
Dr. Hopkins is triple board-certified, with board certification from the American Board of Plastic Surgery in both Plastic and Reconstructive Surgery and Hand Surgery, as well as the American Board of Oral and Maxillofacial Surgery. There is truly no better choice when it comes to plastic surgery in the Dallas area.
Call his office today at (972) 298-6641 to schedule your first consultation and learn more about how he can help you get the body you desire.